Plush microsuede cover

Lightweight supportive foam
Compressible with stuff sack
Durable and easy to clean
Weight: 9.8 oz
Size: 17.5" x 14" x 6"
Size Packed: 10" x 5" x 5"
Cover: 100% Polyester Microsuede
Filling: 100% Polyurethane Foam
Weighs only 9.8 ozs which is perfect for camping or travel.
Feels like you brought your home pillow on the road. Get the best nights rest and wake up feeling energized.
Filled with compressible foam that packs down small but also expands into a lofted foam that molds to your head for support.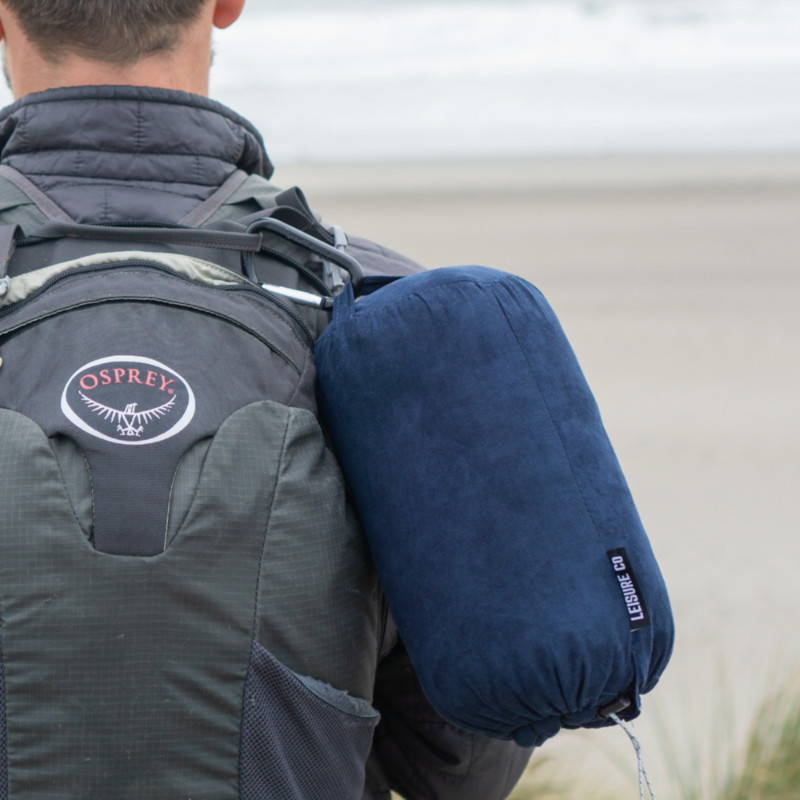 Easily clip on to your backpack or suitcase if you don't have room.
So soft to the touch it's like sleeping on a cloud.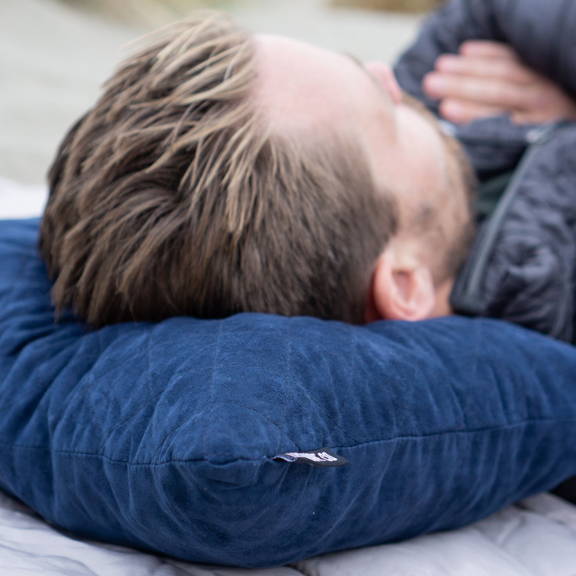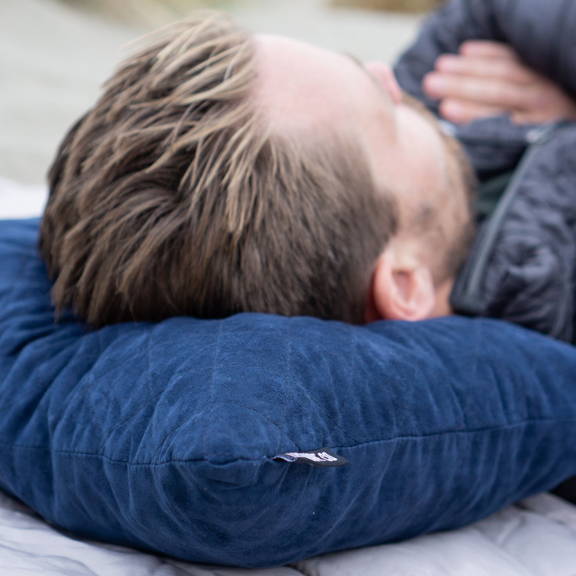 So soft to the touch it's like sleeping on a cloud.
self-inflating and cozy personal pillow
I did not think much of this small pillow when I first received it all packed away in its little soft cloth bag, but I was soon surprised with its performance. You take the pillow form from the bag and play with it a bit to fluff it up (and wake it up). Just go do something else and come back to it to check on it and wow, it will be so fat and plump you will not believe it. the inside stuffing has to have a little while to expand on its own, but when it does, you will have a wonderful emergency or travel pillow for your weary head.I plan to keep this in my vehicle for emergencies and for the kids to use when they want to nap on long trips. It is just the right size for one person to use to support their head on just about anything. The material is soft on the skin and simple to keep clean. I recommend it for all travel, emergency, and unexpected guest purposes that can occur. I received this as a free product in exchange for my unbiased opinion to better guide future buyers with an honest review.
Good pillow, but small
There isn't much to say about a pillow. This one is very soft and comfortable. It doesn't offer much support but that all depends on personal tastes/desires. Got this to go camping and my air mattress has a built in pillow so I don't need the support of a thicker pillow. My only gripe is the size. I know camping pillows are smaller than standard ones, but this is barely larger than my head. This would be a perfect camping pillow for a child though.
Comfortable camping pillow option
Comfort is a subjective thing. I found this pillow to be comfortable. It's made from shredded memory foam and feel a bit uneven when you take it out from the bag but after a short shake it's good to go. It can get a bit warm so if your are suffering from that this pillow is not for you.It's fairly lightweight and compact but not sure it's enough for air travel or backpacking.It certainly made my camping trip a bit more comfortable and that's a win for me. To summarize,Pros: comfortable, good quality, memory foamCons: get get a bit warm, uneven, not the most compact/lightweight pillow around
Great travel pillow
This expands to be a pretty good neck support - just right for in a car or airplane. Very nice to the touch. Easy to pound down into a pouch or a corner of your carryon.
Small firm pillow
I can't sleep on average sized pillows. This pillow was perfect. Takes about 30 minutes to completely fluff up. Foam is on the firm side. Had a slight chemical smell that leaves after airing out. Comes with a case. But it's my opinion that the pillow will never fit back in the case after decompressing. Bag is still nice.